Online Marketing By Industry
Industry Specific Campaigns That Get Results
Our team of marketing experts base every strategy, every decision on two things: research and results. What we don't do? Deliver cookie cutter marketing plans to every client. We'll work to understand your short and long term business goals for online marketing, against the backdrop of industry specific trends and realities for your particular industry. Whether you're an attorney looking to get the word out about the services you provide, or a retail store wanting to promote a new eCommerce site to potential customers, we'll structure your campaign to fit the unique demographics of your field.
It Starts with Strategic Planning
First, we'll establish your business goals for your online site, and help you to identify the effective online marketing channels that not only fit your budget, but work most effectively within your category to capture customers. Our exhaustive competitive analysis will reveal the best ways to target your desired demographic, build your brand and enhance your online reputation.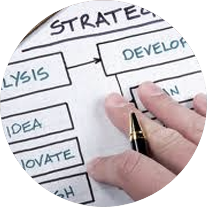 Value. Service. Strategy.
Get industry-specific, customized campaigns with Captain Marketing.
Call Us Today. Let's Get You Results!
888-297-9977